For the month of April, I am artist in residence at the Booth in Scalloway in Shetland. The building was constructed by the Scalloway Waterfront Trust in 2001 on the site of the oldest building in the village. It consists of a combined 'clean' working area and living space which is located on the upper level and a stone-walled basement for more 'dirty' work. There is a walled paved area outside which directly overlooks the sea.
This residency combines so many amazing and inspiring opportunities. I was born here in Shetland, but left with my parents when I was very young. All of my mother's family are here in Shetland. They have been so welcoming and helpful, and I'm really enjoying reconnecting with them, after 19 years, when I was here on my last visit.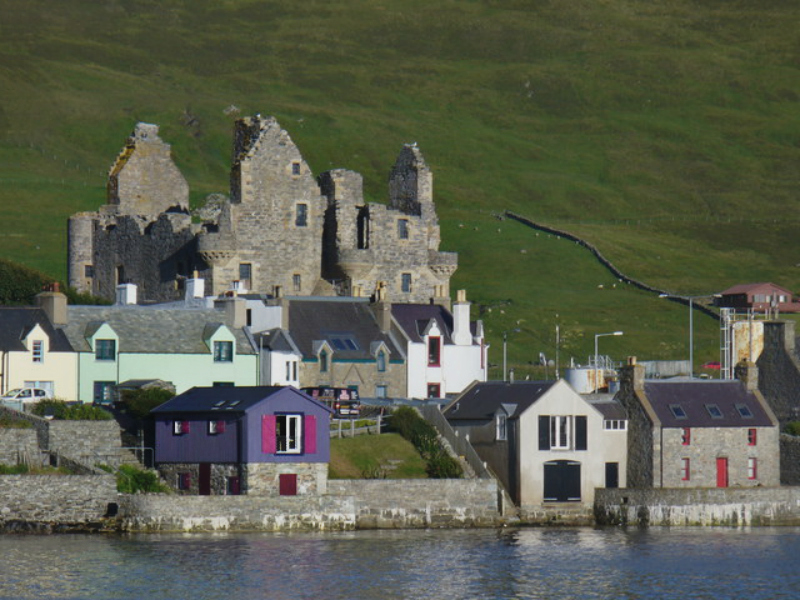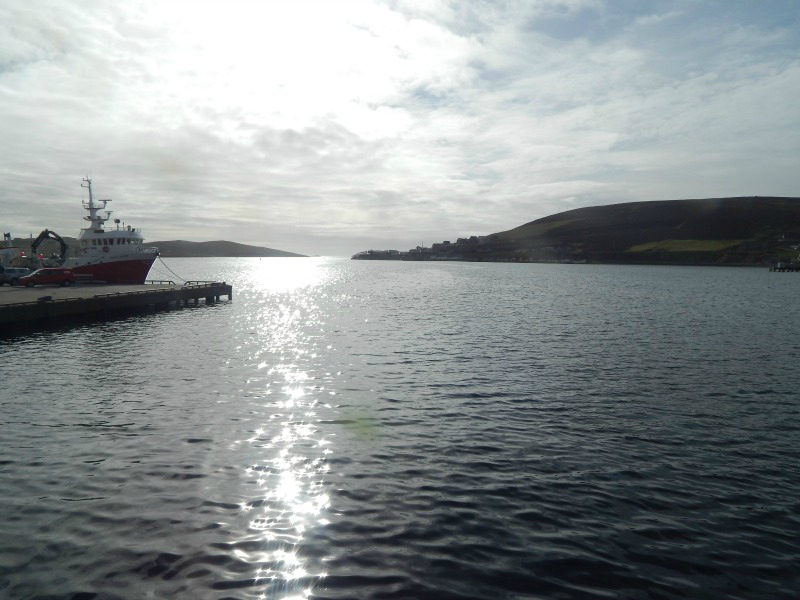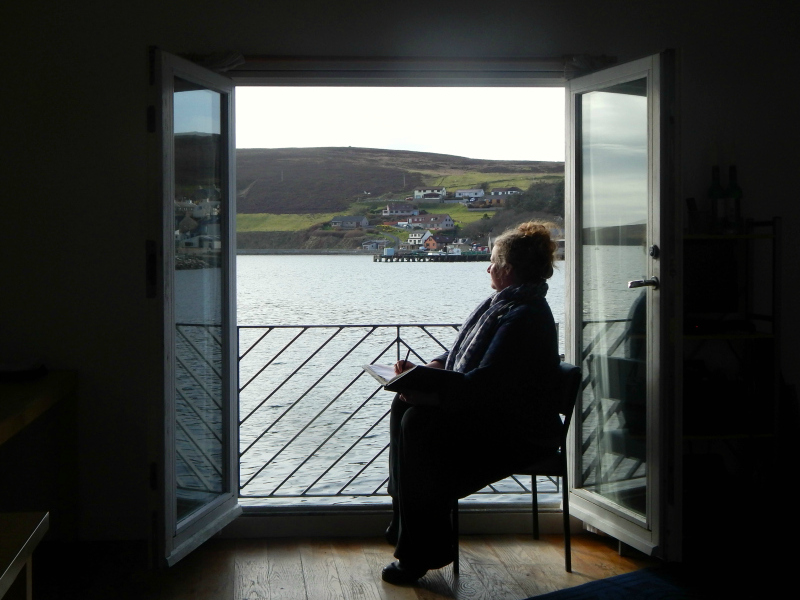 The environment is wild and inspiring. There is an almost constant wind that is invigorating, and the land and sea views, both in detail and from a distance, open up a wealth of ideas, as well providing a grounding influence. I feel very connected to this place. My work here is to explore outdoor installations in feltmaking. Everywhere I look, I can imagine a feltwork that could respond to that space, some small and intimate, and others large and public. The greatest difficulty will be to create work that can be installed securely in relation to the winds here.
The booth is in the ancient capital of Shetland, Scalloway and sits right on the waters edge. The living space is upstairs, with big doors creating a constant visual connection to the changing weather conditions. The studio space is downstairs, which I spent one day this week cleaning up and re-arranging to make it work best as a felting space for large felt pieces. Many thanks to my cousin, Martin, for helping to create the perfect felting table!
There is a little door here at the front of the studio space that opens out onto the sea. I keep it open when I can, to work alongside the elements. Everyday, as I wake up, go to sleep, as I work in the studio and catch up on computer work, I can hear the water lapping against the stone walls.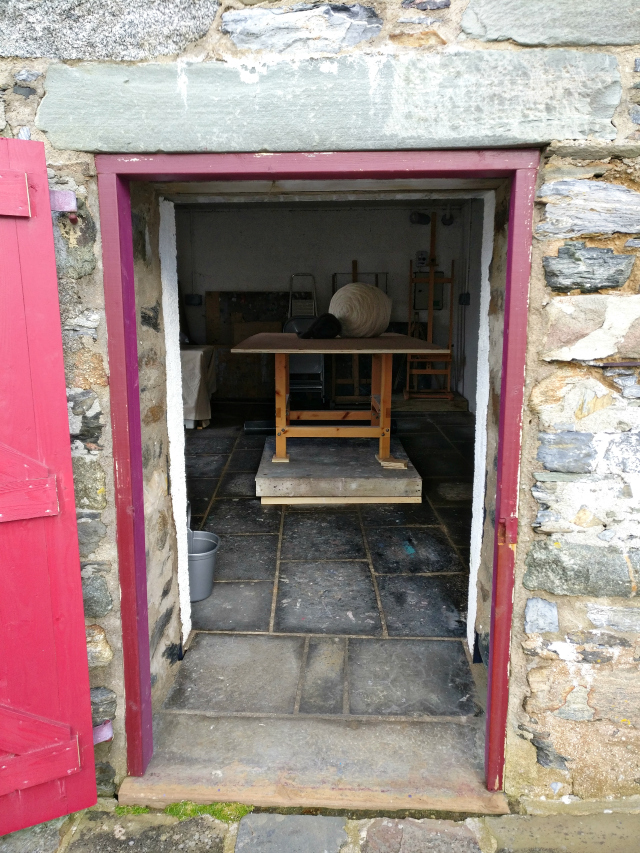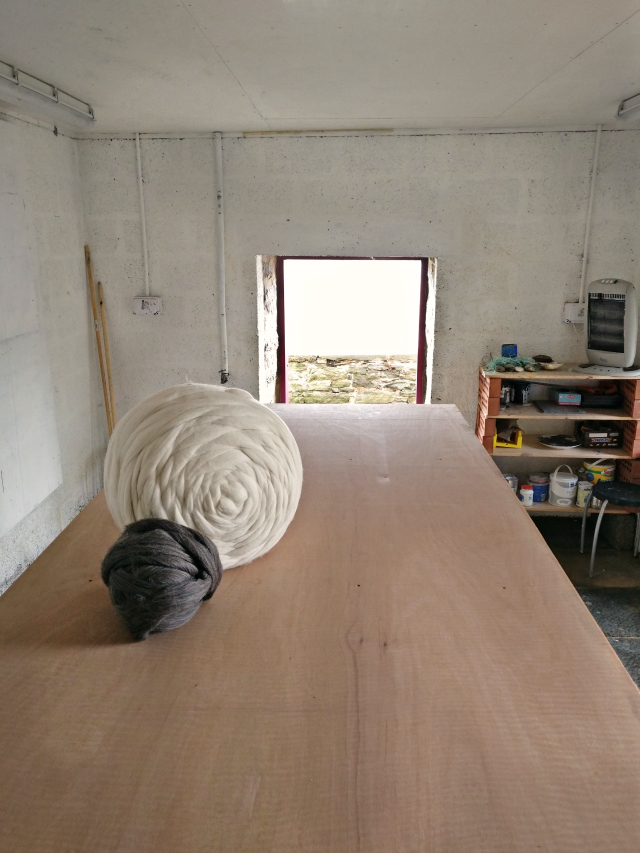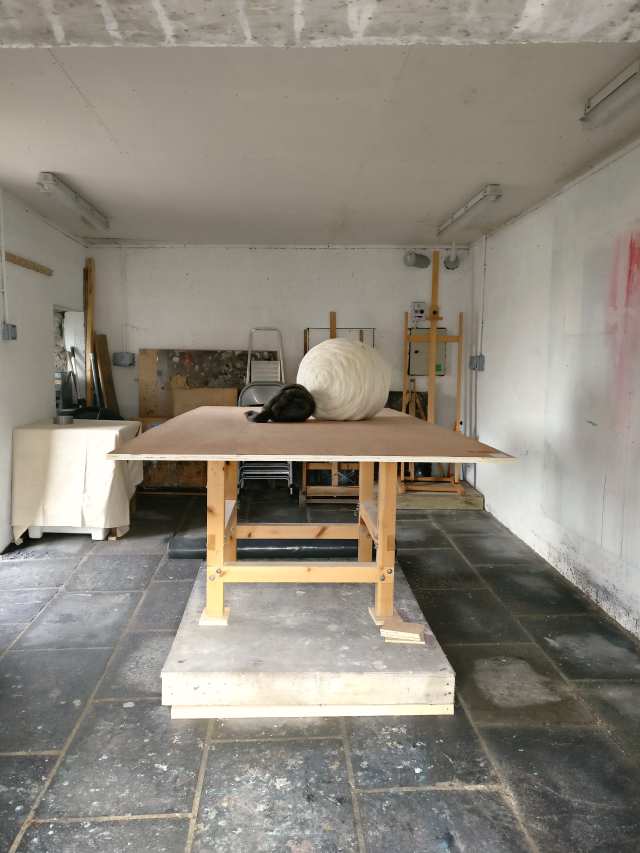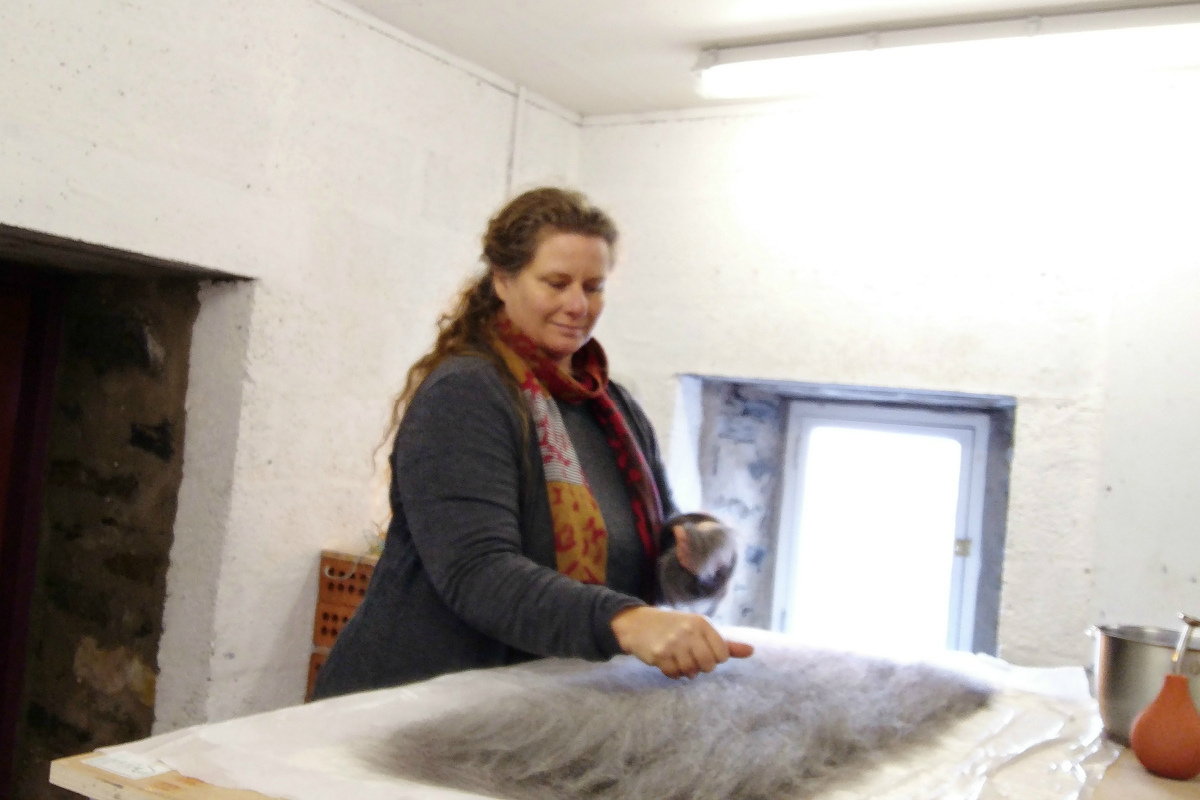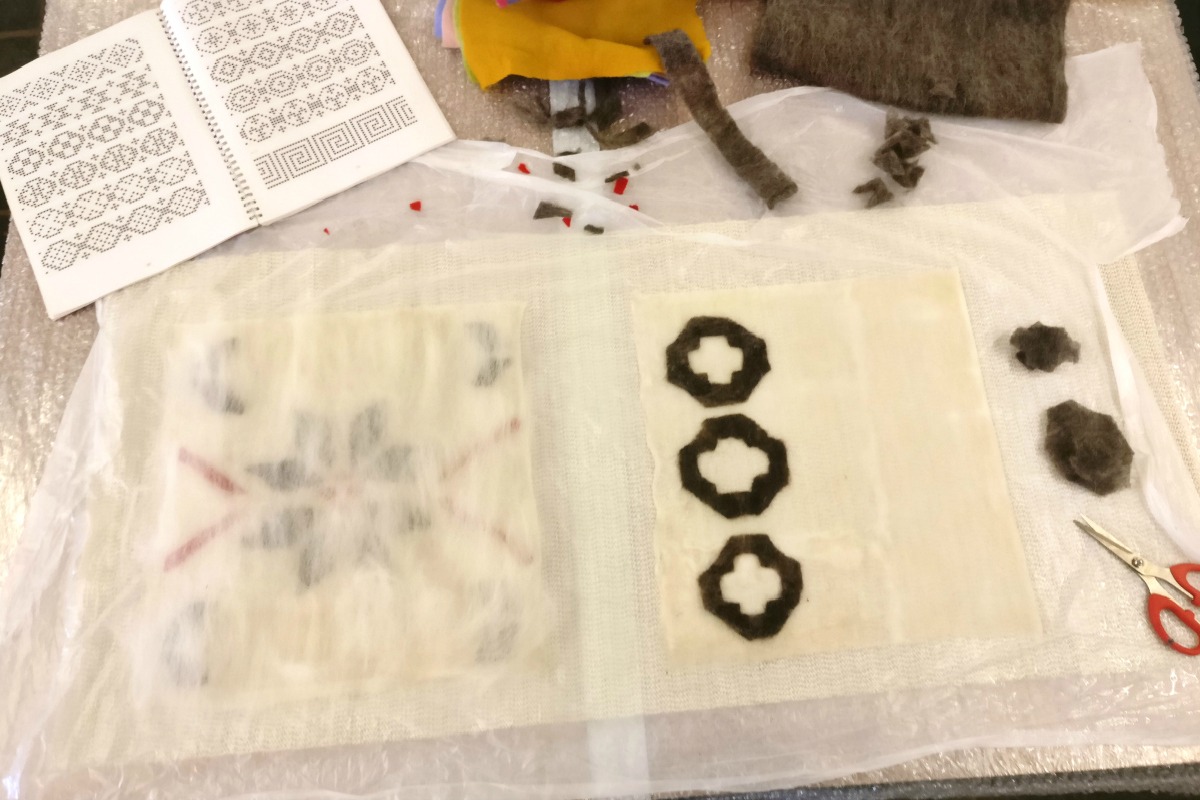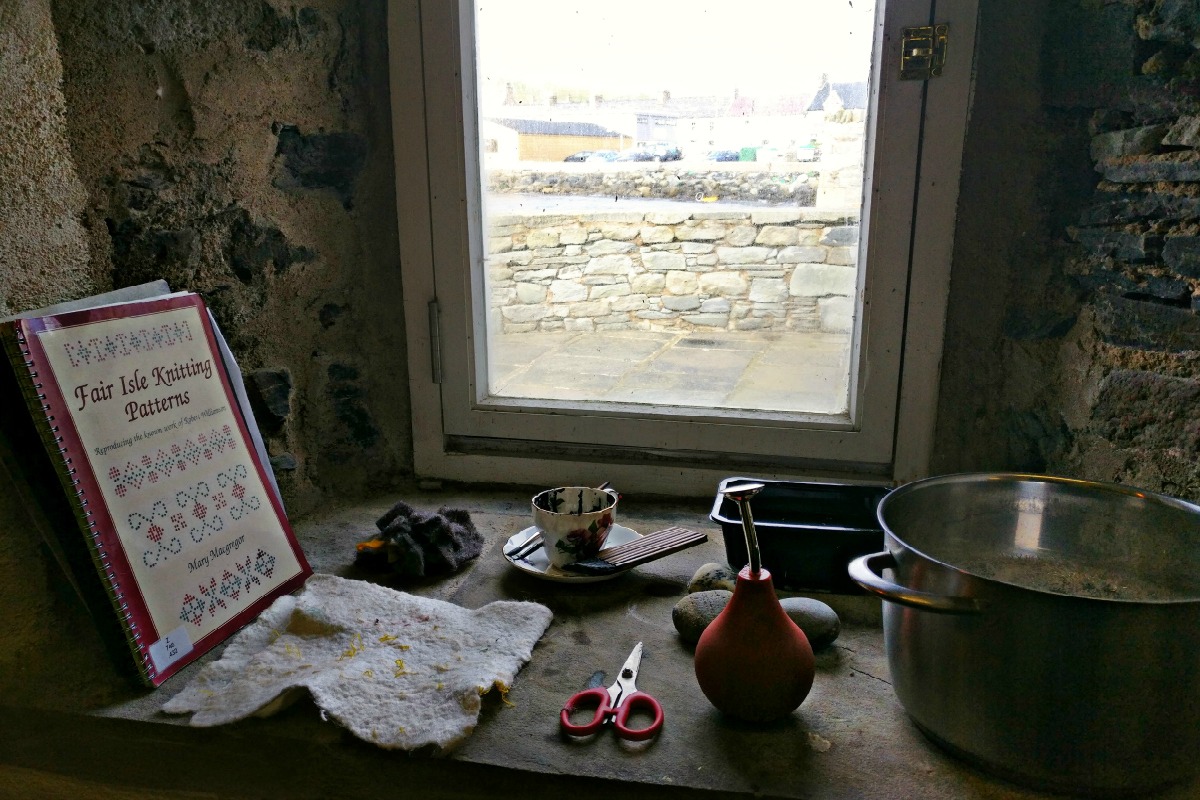 My next task after setting up the working space, was to get a Shetland Library card and pick up some reference and research materials. There are some great books in the Library, and at the Shetland Museum, covering the Neolithic, Pictish and Viking periods, archaeologically, and the textile history of the Islands.
I'll be working with Shetland wool to make my pieces, and picked up a great ten kilo bump of Shetland Wool in the natural white and also some of the natural grey from Jamieson and Smith in Lerwick.
To start to integrate my felting with this place, I started with some prefelt in the grey, to cut into shapes to replicate the traditional fair isle knitting designs. I am feeling drawn to both working with a lot of backlighting, and illuminated embedded design, as well as working with the dark greys of the buildings and walls, combined with the bright colours used in the knitwear. For the moment, I am just letting these ideas present themselves, and I'm making some samples and small pieces, to see where they take me.
Thank you to WASPS Studios for providing this opportunity and to all my lovely family here for all the support!