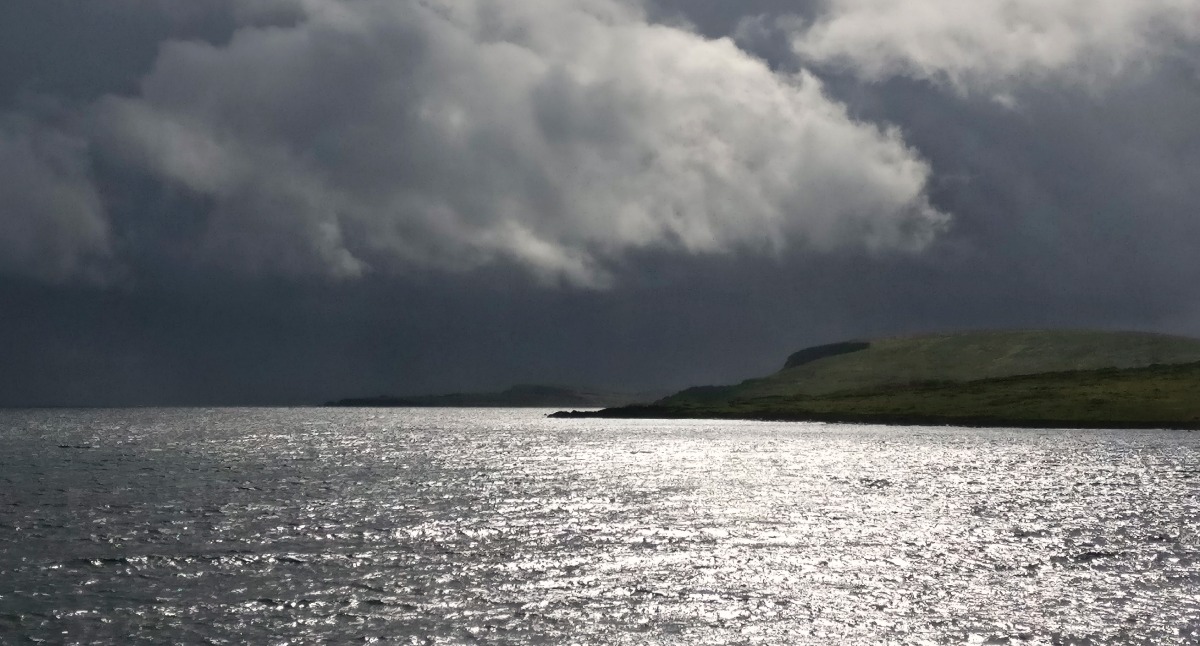 Our next destination was the Island of Yell. This part of our travels was as much about people as place.
I had recently been introduced, online, to Shona Skinner, artist and owner of the Shetland Gallery in Yell. Shona had just returned to Shetland after teaching at the Grampians Texture event in Hall's Gap, Australia, where I taught last year. It's a small and wonderful world!
The Shetland Gallery is a beautiful space- airy, open, light filled and calm. All of the artworks presented have commonalities in colour, but great variations in texture, medium, and style, creating a very strong, cohesive and diverse collection. Shona's background is in fine art, and her attention to detail and precise and exquisite representation of the local landscapes reflect this experience. I especially like her use of contrast in the tiniest of stitches alongside raw strips of fabric to create such a realistic scene.
From Shona's website:
"Shona has deep family roots in the North Isles and has been coming to Shetland for fifty years, before moving permanently in 2010, in order to become a full-time artist after being an art teacher for thirty years. She trained as a painter at Gray's School of Art, but has become increasingly fascinated by the use of textiles. Her free-machine embroidery works capture the complex texture, as well as the astonishing light, of the Shetland landscape and seascape. Moving her studio to The Shetland Gallery has inspired her to paint again."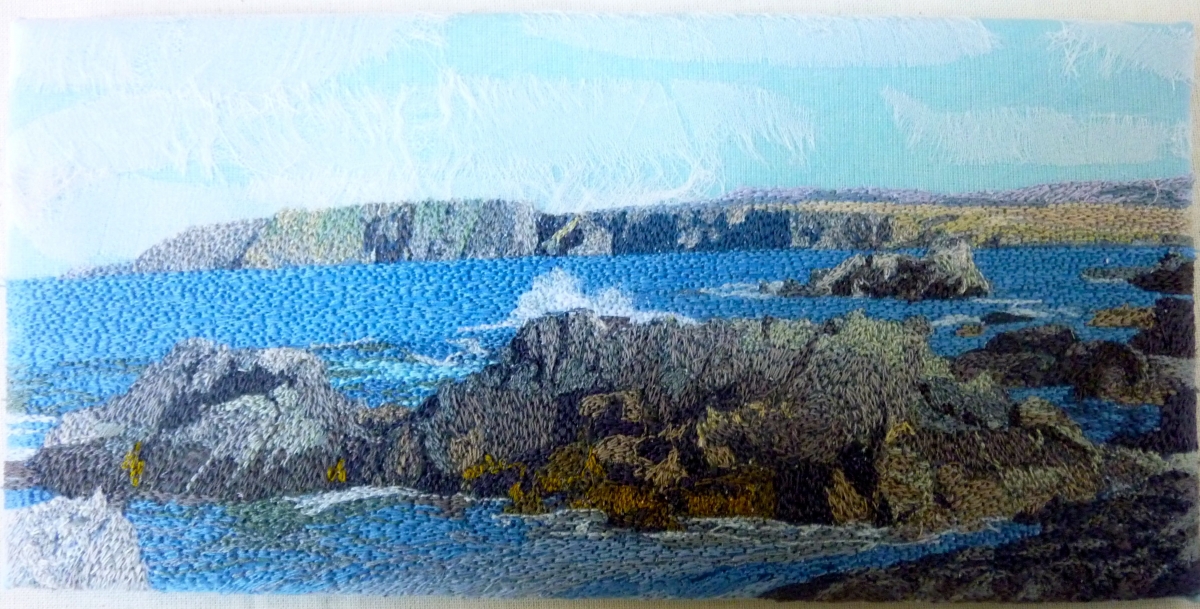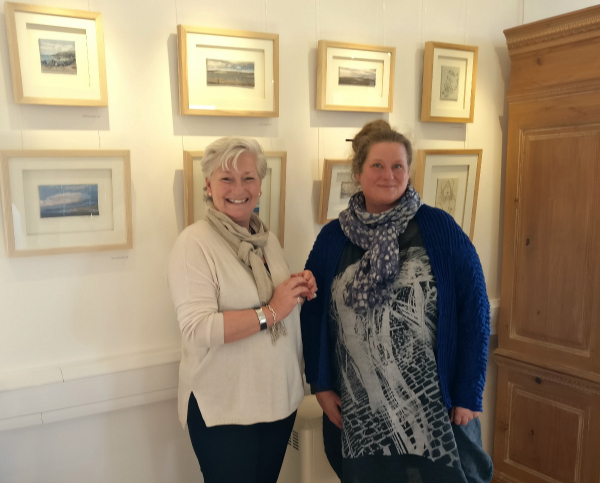 Shona was recently interviewed on textileartist.org, as part of their Conception to Creation series, sharing where the idea for the piece came from, how she developed that idea and the techniques she used to bring the piece to life. You can read the full interview here.
You can see more of Shona's work, and the artists she represents in her gallery here: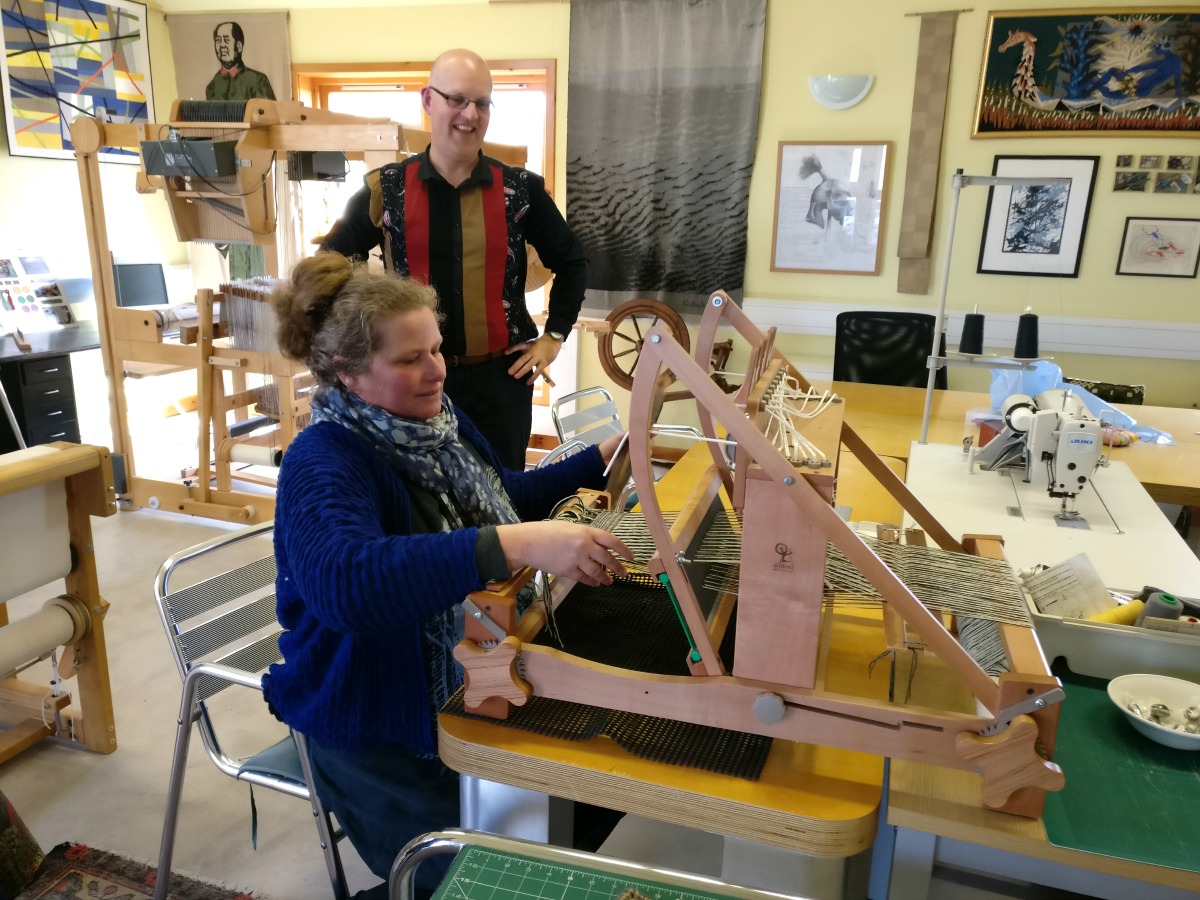 From the Shetland Gallery and Shona, we went next door to an equally vibrant, light filled studio, visiting Andy Ross at Global Yell.
Andy is a tremendous resource in regards to all aspects of weaving in the Shetlands, and we enjoyed an amazing tour through the weaving spaces, and textile archives. He is inspiring in his dedication, breadth of knowledge, enthusiasm for this medium and for his unique business model including volunteers, artists in residence, workshops, and patronage to develop a sustainable textile based business. Andy is an excellent weaving instructor, and gave us an introduction to weaving, that was clear and encouraging. We chatted about how we got to where we are, and launched into some very tentative but exciting ideas on creating an event around textiles and the environment in Shetland, in the next year or so. Ideas sparking.
You can read more about Andy's work here:
Fibre people really are wonderful, and meeting Shona Skinner and Andy Ross, rounded out our northern islands tour perfectly.